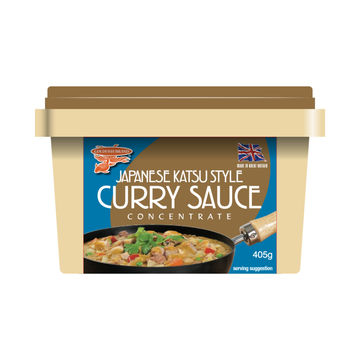 Goldfish Katsu Curry Sauce 1 x 405gm
Goldfish Katsu Curry Sauce 1 x 405gm
Goldfish Japanese Style Curry Sauce Concentrate is a yummy flavoured sauce using a traditional blend of Japanese style recipe
Goldfish Japanese Style Curry Sauce Concentrate is a yummy flavoured sauce using a traditional blend of Japanese style recipe. It is used to create a richer and more aromatic curry sauce. This curry sauce concentrate is ideal for making a traditional Katsu Curry dish that is very delicious tasty and easy to make. Available in 405 g.
Ingredients:
Flour (WHEAT Flour, Calcium, Iron, Niacin, Thiamine), Palm Oil, Vegetable Oil (100% Rapeseed Oil), Sugar, Salt, Flavour Enhancer (Monosodium Glutamene), Curry Powder 2% (Coriander, Turmeric, Cumin, Gram Four, Salt, Fenugreek, Black Pepper, Chilli, Garlic, Fennel, MUSTARD, Star Anise), Cardamom, Water, SOYA Sauce (Contains SOYA And WHEAT Flour), Cinammon, Cumin, Star Anise, Liquorice Powder, Nutmeg, Garam Masala Spices, Fenugreek, Black Pepper, Chilli Powder, Clove, Turmeric.
Directions:
Add 100 g concentrate to 300 g hot water to make two servings. Dissolve thoroughly, bring to the boil, stir and simmer. The sauce is now ready.
Buying top quality Sidebits!