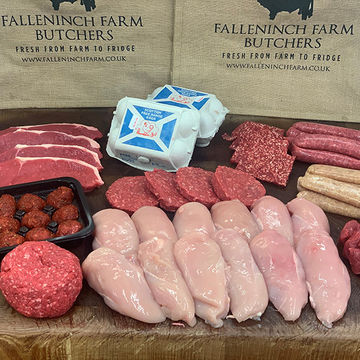 Chris The Problem Protein Pack
Chris The Problem Protein Pack
Falleninch Farm has been sponsoring top mixed martial arts fighter
Chris Duncan
for nearly four years.
Chris, from Tullibody, has known our head farmer Andrew since he was a young lad playing rugby at Stirling County, where Andrew used to coach junior teams.
The 28-year-old has earned a big reputation in the fighting world with a professional record of 7-1, and is such a handful for opponents he earned the nickname "The Problem".
To help his body recover after intense training sessions and gruelling fightcamps, Chris is fuelled by high-protein, low-fat cuts from the Falleninch butchery team.
Here he is picking up his favourites which we are turning into a new product: The Chris "Problem" Duncan pack.
There's plenty there, it's great value, and it's all suitable for freezing then using when you need so it will last ages. It contains:
12 chicken fillets
4 sirloin steaks
12 free-range eggs
1 packet of italian meatballs
1 packet of lean lorne sausage
4 low-fat steak burgers
1lb of lean diced stew
1lb of lean mince (less than 5% fat)
1 packet of extra lean links sausage
1 packet of chicken links sausage
Buying top quality