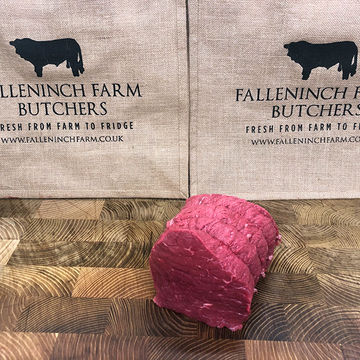 1kg Silverside roast beef
Popular and economical, beef silverside roasting joints have a firm texture, perfect for a Sunday roast or in the slow cooker. Hand cut and rolled by our expert farm butchers.
Perfect for a Sunday roast. Hand cut and rolled in house by our experienced butchers.
Falleninch cooking recommendation
Take your meat out of fridge 2 hours before cooking this allows the muscles to relax. Season your meat with salt and pepper. Brown your roast on a frying pan before transferring into a roasting tray, or slow cooker with beef stock. Cook low and slow to your families cooking preference. Serve with your favourite sides.
Look under the sauces ect. section for our Yorkshire pudding mix.
Why not try adding carrots, onion and celery to your pan?
1 roast min 1kg
Buying top quality Beef / Lamb