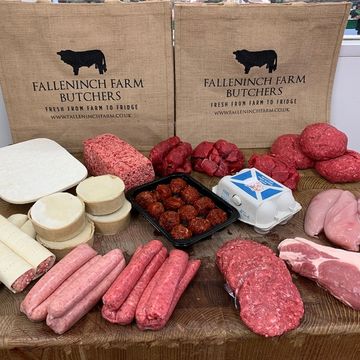 Family Favourites Pack with smoked bacon
Family Favourites Pack with smoked bacon
This pack contains 14 of our family favourite products and is amazing value! Saving over £20 on the individual price
Our best-selling pack contains 14 of our most popular products and is fantastic value! Imagine how many family meals you can make - and you're saving £££s on the individual product prices! Each pack contains:
3lb Steak Mince
2lb Diced Steak
4 x Fresh Chicken Fillets
1 x pack Smoked Prime Back bacon
1 x pack 12 Italian Steak meatballs
4 x Steak burgers
1lb Pork link sausages
1lb Beef link sausages
1/2 Sliced Steak Lorne
6 Free-range eggs
1lb Farmhouse Steak Pie (Ready to bake)
4 Sausage rolls (Ready to bake)
4 Beef olives
4 Scotch pies (Ready to bake)
This pack is packed in separate trays and all items can be frozen if required.
Buying top quality Meat Packs