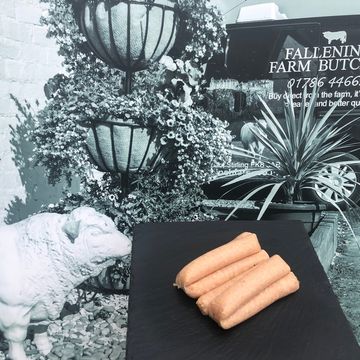 Extra Lean Chicken Sausages
Extra Lean Chicken Sausages
Winner of a Gold Award from Scottish Craft Butchers 2016, these flavourful sausages are hand made on the farm. These lean and healthy chicken sausages are made from 100% chicken breast meat. Each packet contains 6 link sausages and weighs approx. 400g
Extra lean and healthy, these chicken sausages are made from 100% chicken with a touch of seasoning.
Full of flavour and only 1.7% fat.
Nutritional info per 100g: 1.7% Fat, 127 Kcals, Carbs 8.1g, Protein 19.8g
Ingredients and Allergen information:85% CHICKEN BREAST, RUSKS, WATER, EGGS, PORK SEASONING, CORNFLOUR, STABILISER(E450), PRESERVATIVE(E 221-4), FLAVOUR ENHANCER(E621), ANTIOXIDANT(E301), SALT AND PEPPER GLAZE MILK, GLUTEN, SOYA, SULPHITE, CELERY, MUSTARD, WHEAT
REMOVE PACKAGING AND PLACE PRODUCT IN A WARM FRYING PAN COOKING FOR ABOUT 10-15 MINS WHILST TURNING THE PRODUCT TO ENSURE THEY ARE EVENLY COOKED. NET AVERAGE WEIGHT 454GMS"
Buying top quality Chicken