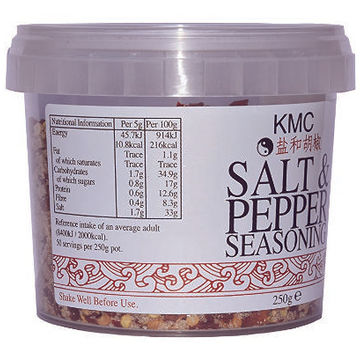 Salt & Pepper Seasoning 250g
Salt & Pepper Seasoning 250g
This KMC Salt & Pepper Seasoning is a highly versatile product can be used in most food to add an extra special flavour.
If you love Chinese Salt & Pepper dishes you will love this seasoning. With only 10.8 kcal per 5g serving and only a trace of fat, this product is ideal for slimmers and is diet friendly. This seasoning is suitable for vegetarians with the added bonus of gluten and wheat free. Add to soups, casseroles, meats, wedges, pizza, dips and many more! Also, the ideal seasoning for the barbecue - a great accompaniment for chicken fillets, pork steaks or ribs, fish, vegetables or pretty much anything that takes your fancy!
Ingredients: Salt, Sugar, Monosodium Glutamate, Garlic, Chilli, Cinnamon, Fennel, Ginger, Aniseed, Cloves
Gluten Free, Dairy Free
Buying top quality Sidebits!
Recipes containing Salt & Pepper Seasoning 250g
Salt and Pepper Chicken
Looking for an easy takeaway recipe for you and your family? This Chinese salt and pepper chicken would give your usual takeaway a run for its money. This recipe contains 1-2 Tbsp KMC Salt and Pepper Seasoning.