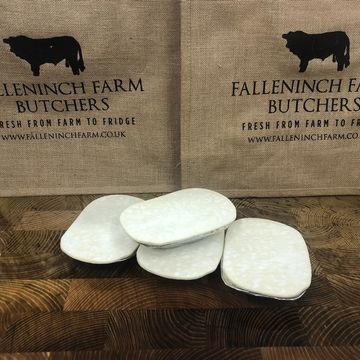 Gold Award Individual Steak Pies
Gold Award Individual Steak Pies
Falleninch Farm Gold award 4 pack ready to cook delicious individual steak pies.
Simply pre heat oven to 180 - 200C, glaze pastry with egg or milk and cook for 30 - 40 mins, ensure piping hot throughout and serve with your families favourite sides. Why not add our Falleninch Farm Gravy available in our sauces section.
Note: If frozen defrost completely
Ingredients
DICED BEEF (55%), PUFF PASTRY (Flour (Wheat) WITH CALCIUM, IRON, NIACIN & THIAMINE), GLUTEN, MILK), GRAVY, Pie seasoning; Salt, Colour, Flour (Wheat), Stabilisers, Dried Onion, Spices, Yeast Extract (Sulphite), Dextrose, Herb exxtract (Celery) Flavouring (Soya).
Declarable Additives: Colour (Caramel E150c), Flavouring
For allergens see ingredients in bold
Buying top quality Beef / Lamb