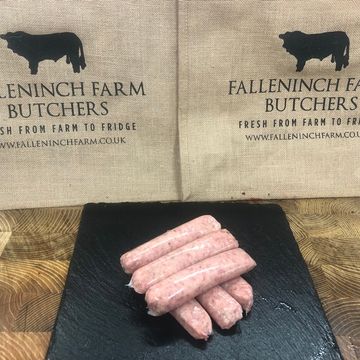 Pork Plum and Apple Chutney Links
Pork Plum and Apple Chutney Links
Falleninch Farm made in house, succulent Pork Plum and Apple Chutney Links.
Made by our butchers these are sausages you don't want to miss out on. Flavoursome, mouth watering they'll keep you wanting more!
Ingredients
PORK SHOULDER (62%), PORK FAT,WATER,RUSK (Wheat), Egg, PORK SEASONING, CORNFLOUR, STABILISER
(E450), PRESERVATIVE (E221-4)
FLAVOUR ENHANCER(E621), ANTIOXIDANT(E301), GLUTEN, SULPHITE.
Chutney: sugar, plums, re-hydrated apples, white grape vinegar, apples, MUSTARD seeds, pimento, nutmeg sea salt.Allergens:SULPHUR DIOXIDE,SULPHITES
Buying top quality Pork