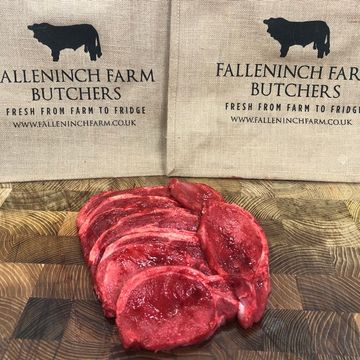 Chinese Pork Chops approx. 1kg
1KG Chinese Pork Chops
Chinese Chop Pork Lions. Ready to cook.
Made in our farm shop, these are perfect for the BBQ, frying pan or preheat oven at 180C and serve with your favourite sides. The 1KG pack is superb for your monthly meat shop. Why not try serving in lettuce wraps, with cucumber spring onion and sweet chilli sauce. Delicious!
Remember to defrost product fully before cooking.
Ingredients
Sugar, salt, maltodextrin, dried tomato, spices (paprika, cayenne, white pepper, cumin), dried garlic, dried onion, dried herbs (parsley, thyme, sage, oregano), yeast extract (yeast extract, salt), colours (paprika extract, carmine), thickener (guan gum), natural jalapeno flavouring.
Allergens in bold.
May contain: gluten, soya, milk, celery, mustard, sulphur dioxide.
Buying top quality Pork