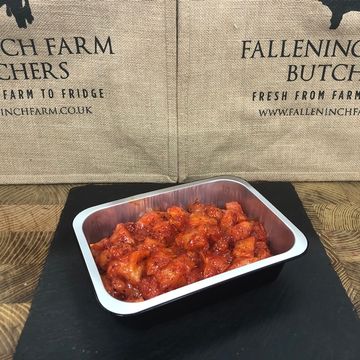 Gourmet Chicken Fajitas 500g
Gourmet Chicken Fajitas 500g
Succulent chicken breast, diced and marinated with mouth watering flavour!
The perfect mid week meal, add your favourite veg and serve with tortillas and salsa. It's a Mexican Feast for the whole family!
Ingredients:
68% Vegetable oils (rapeseed, sunflower, lineseed), spices (cumin, pepper, chillies, smoked paprika, coriander, jalape?o pepper), salt, vegetables (tomato, garlic, onion), sugar, natural flavourings, herbs, paprika extract, dextrose, lemon juice powder (lemon juice concentrate, maltodextrin), food acid: citric acid.
Why not try making your own salsa?
Ingredients
6 ripe tomatoes
1 big bunch of fresh coriander
1 onion
2 fresh jalapeño or green chillies
1 large clove of garlic
1-2 limes
extra virgin olive oil
Method
Finely chop the tomatoes and coriander (stalks and all) and place into a large bowl.
Peel and finely chop the onion, deseed and finely chop the chillies, then scrape into the bowl. Peel and finely grate in the garlic.
Squeeze in the juice from 1 lime, add 2 tablespoons of extra virgin olive oil, and mix well. Season to taste with sea salt, black pepper and more lime juice, if needed.
Serve straightaway or cover and set aside for a few hours to let all those flavours develop.
Buying top quality Chicken