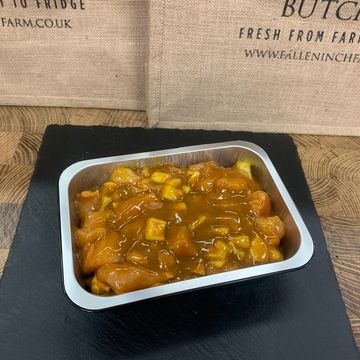 Gourmet Bombay Chicken Curry 500g
Gourmet Bombay Chicken Curry 500g
Mild in spice, this Bombay ready to cook chicken curry is enough for the whole family.
Chicken breast conveniently diced, with onion and a Bombay Ideal for a quick meal, simply pre heat oven to 180C, pierce film and cook for 20-25 minutes.
Ingredients: Chicken breast, onion, Water, sugar, vinegar, spices (turmeric, coriander, fenugreek, pepper, cumin, cardamom, allspice, ginger, paprika, chillies), salt, sunflower oil, modified corn starch, natural flavour, garlic, food acid: citric acid, thickener: guar gum, preservatives: potassium sorbate and sodium benzoate, stabilizer: xanthan gum.
Allergen Advice: contains MAIZE, PULSES, CORIANDER
Buying top quality Chicken