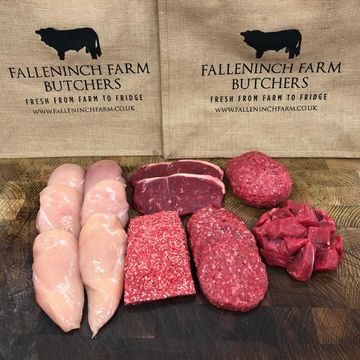 £40 Protein Pack
This lean, high protein pack is ideal for healthy eaters, dieters, gym goers and anyone following a low fat/high protein diet.
NEW Smaller Protein Pack. Little on price BIG on Value!
Included in the pack:
6 Large Chicken Fillets
2 Sirloin steaks (170g/6 oz steaks)
1lbs Lean steak mince (less than 5% fat)
1lbs Lean diced steak (trimmed of fat)
4 Steak Burgers (5% of fat or less)
4 Slices extra lean Lorne sausage
6 Scottish Large Free Range Eggs
All meat is supplied fresh, and can be frozen.
Please note that the chicken included in this pack is high quality fresh chicken from our trusted supplier in the EU.
Buying top quality Meat Packs