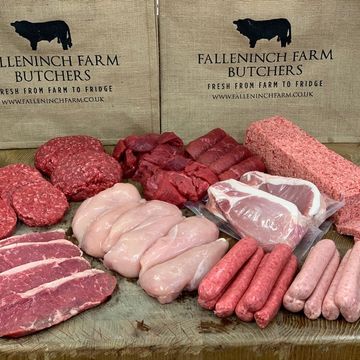 The Big Eat Pack with smoked bacon
The Big Eat Pack with smoked bacon
The Big Eat Pack is perfect for filling up your freezer. Made up with our best sellers you don't want to miss out on this amazing pack!
At ONLY £80 Big Eat pack offers enough variety for the whole family!
The BIG EAT pack contains
6 Chicken Fillets
2 x 1lb Lean diced Stew
2 x 1lb Lean Steak Mince
Whole Sliced Steak Lorne (Approx. 22 slices)
4 Beef Olives
4 Sirloin Steaks
8 Steak Burgers
2 x 400gms smoked Prime back bacon
6 x Beef Links (400gms)
6 x Pork Links (400gms)
This pack is packed in separate trays and all items can be frozen if required.
Buying top quality Meat Packs