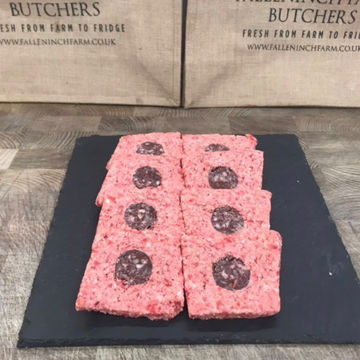 Black Lorne - 8 Slices
Falleninch Beef Lorne with a black pudding centre perfect addition to your breakfast.
8 slice pack of our amazing beef lorne with Mcfarlane black pudding in the centre. Perfect for a full fry up or for your morning roll.
Ingredients and Allergens:CONTAINS 50% LEAN BEEF TRIM, BEEF FAT, RUSKS, WATER, EGG, BEEF SEASONING; SALT & SPICES, WHEATFLOUR, DEXTROSE, STABILISERS(E450), PRESEVATIVE(E223), FLAVOUR ENHANCER(E621), ANTIOXIDANT(E301), NICOTINAMIDE, COLOUR(E120).
Allergens: GLUTEN, SULPHITE
Buying top quality Beef / Lamb